Transformers – Transform Africa
Abu-Hassan Koroma
CEO & President
Abu-Hassan Koroma AKA Askia the Great is the founder, President & CEO of Twenty-First Century African Youth Movement. He is responsible for building a technology-driven leadership team with capable staff, volunteers and support networks around the world to empower and mobilize rural Africa youth through multiple channels of engagement and economically viable operations with focus on creating Social Enterprise Centers and good jobs across Africa – starting in Sierra Leone!
With a Higher Teacher's Certificate (HTC) in Art & Crafts from the Milton Margai Teachers College (now Milton Margai College of Education and Technology) in Sierra Leone and a Bachelors of Art in International Relations from the UW-Madison, Askia combines the creative potentials of visual art and the humanities to mobilize young volunteers around the world to support AYM and contribute to reversing the social and economic marginalization of Africa. Askia believes that a vigorous engagement with the global community for ideas, financial and material support as well as volunteer commitment will provide employment for youth in rural Africa, increase their income and quality of life and also contribute to peace and stability in Africa.

In 1989, Askia founded the first African Chapter of the United Nations of Youth (now the United Network of Young Peacebuilders (UNOY) in Sierra Leone. He served as its first National Coordinator until April 1991. As UNOY National Coordinator, Askia was appointed youth representative on the UNICEF National Taskforce Committee for the World Summit on Children held in New York in 1990. The UNICEF National Taskforce Committee designated UNOY to coordinate the National Candlelight vigils before and after the Summit. Askia was elected member of the International Working Group in 1992 at the second International Conference of UNOY in Schoorl, The Netherlands. In 1993, Askia was re-elected member of the International Working Group in Minsk, Belarus.

From November 1993 to November 1994, Abu-Hassan Koroma was a Volunteer in Service to America (VISTA), a U.S. Corporation for National & Community Serviceprogram that "places individuals in a variety of situations where the application of individual talent and dedication bring an added dimension to federal, state, and private nonprofit organizations assisting low-income communities." Askia was assigned to the Common Wealth Development Corporation in Madison, Wisconsin as a Youth Business Mentoring Program Assistant, providing "youth an intensive three week pre-employment training followed by a job placement" with supportive businesses.

Humanist, Artist and Poet, Askia's painting has been exhibited in the Porter Butts Gallery, "67Th Annual Student Art Exhibition" at UW-Madison and, his poem on the "Waters of Wisconsin" was published in the Spring 2003 Wisconsin Academy Review. He was also a nominated semi-finalist in the 5th Annual Volvo for life Awards in 2007.
Dennis Charles Glover
Executive Senior Vice President & COO
Dennis Glover was born and raised in Midwest America into a compassionate and lively family. He gained a broad scope of life after earning a degree in Strategic Business Management in 2001, from the University of Wisconsin-Madison, and found his calling when he met Abu-Hassan "Askia" Koroma, the founder of the Twenty-First Century African Youth Movement.
For the next five years, Dennis worked closely with Askia, helping coordinate AYM's art projects in America, and spending countless hours planning for the creation of a new AYM chapter in Sierra Leone that would create jobs for the youth.
In 2006, Dennis began a five-year commitment to initiate the new program in Sierra Leone. He conducted community organizing campaigns, established community vegetable gardens, and eventually created the AYM Social Enterprise Center in Mattru Jong.
Dennis made policies for the operation of the 24-hour renewable energy system at the Center, including the cell phone charging business and Internet Café and trained the local volunteers to manage the program without directly outside supervision.
Dennis lives in America and travels to Sierra Leone at least twice a year. He speaks fluent Krio and is the first point of contact for the manager of AYM in Mattru Jong.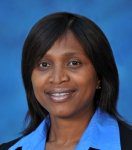 Mariama Stacy Koroma
Vice President of Finance & Chief Financial Officer
Mariama Samba-Koroma, MHSA is the Director of Finance and Health Service Capacity Building at Twenty-First Century African Youth Movement (AYM).

Mariama joined AYM in 2000 directing the financial operations of AYM at both the national and international levels.  In addition to this work, Mariama provides direction for health service capacity building and strengthening at the field level working directly with AYM local volunteers.
Mariama started her career as a health services administrator in 2000 working for a large hospital system in revenue cycle, access and customer service management.  In 2004 Mariama traveled to the Democratic Republic of Congo, where she was a hospital management consultant managing $1.5 million grant funded capacity building project helping strengthen health care capacity for a 150 bed hospital, which was affected by conflict. In 2006, Mariama worked for the Bill Clinton Foundation Healthcare Access Initiative in collaboration with Yale University as a Senior Fellow in International Healthcare Management in Ethiopia. In Ethiopia, Mariama worked with the Ministry of Health in building the capacity of a hospital and regional ministry of health leaders in effective healthcare delivery management.
Mariama has a certificate in International Healthcare Management from Yale University, a Masters of Science in Health Services Management with a focus on Finance and Health Systems from George Washington University, USA. Mariama holds a Bachelor of Science in Public Administration from George Mason University,  USA.
Erin Summers
Vice President & Director of Philanthropy
Erin Summers was born and raised in Midwest America.  She first became involved with AYM in 2004 while attending college in Madison, WI, starting off as our Midwest Regional Coordinator to drive recruiting efforts and facilitate donations through events and grants.

Erin has since developed her skills and experience through private business channels and education, obtaining a BBA from the University of Wisconsin-Madison in 2006, and both her MBA in Project Management and MS in Organizational Leadership from CSU in 2013 and 2016, respectively. 
She has a long history of working with non-profit and volunteer organizations, driving volunteer and fundraising efforts for the arts, education and community development. 
She served as Campaign Volunteer Manager for both the 2008 and 2012 U.S. Presidential Elections in Madison, Wisconsin office for the Obama campaign, and continues to work with local education and community support groups such as The Boys and Girls Club and Middleton Outreach Ministry (MOM).
As our Director of Philanthropy, Erin serves as the principal fundraising officer and manager for AYM. 
Erin currently lives in Madison, Wisconsin, with her husband and three children.  She is an avid world traveler, oil painter, and hiker.
We are seeking professionals in management, business, government, and nonprofits.