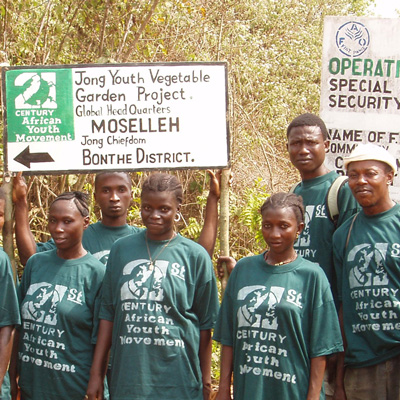 Entrepreneurship is at the core of AYM Program Design.  The organization will always seek financial support from well-wishers and donors.  But, its future as an economic institution for the social good, lies in a solid business plan that would generate continuous funding from multiple sources to keep its programs viable and sustainable.
To achieve this goal, the organization's flagship priority is the AYM Social Enterprise and Business Incubator Center in Mattru Jong,  Sierra Leone.  The center serves as a model for educating youth about business concepts and creating employment in the community for possible replication in other areas in Africa.
The AYM Social Enterprise and Business Incubator Center generates its own funding through the micro businesses that we operate such as the 24-hour cell phone charging services, sale of cold soft drinks and water, motorcycle and vehicle battery charging and internet services.  It is the only venue in the entire Bonthe District with 24/7 electricity using solar, wind and diesel.  We are currently in the final stages of planning the implementation of satellite internet to replace cellular internet.   This will greatly enhance our technology program and enable further ITC training for our youth.
There are currently, 7 full-time employed youths at the Social Enterprise Center as follows: 1 Site Manager, 2 Loss Prevention Specialists, 3 Customer Service Specialists and 1 Community Liaison Officer complemented by 250 trained youth volunteers awaiting job placements.  Salaries for the employed youths are derived from the business activities at the Enterprise Center. The success of this project will be determined by AYM-SL employing and adding to its salaried roster 25 more youths by the end of December, 2014; 50 by July 2015 and, 40 by the end of December 2015 for a total payroll of 122 youths by the end of December 2015. Employment and vigorous cross training will be the hallmark of AYM's youth recruitment and retention processes in the job programs.
According to the United Nations, here are the hard facts on Sierra Leone:
60 percent of young women and men between the ages of 14 to 35 are unemployed, which is among the highest in West Africa.
Sierra Leone's youth are living on less than US $2 per day.
80 percent of the country's youth population is unable to earn enough to lift themselves and their families above the US$2 per day poverty level.
Less than 50 percent of young workers in Sierra Leone receive payment for their labor, compared with two-thirds of adults. In addition, most private companies pay between US$30 to 37 per month as a basic salary, reaching US$58 to 70 at the top supervisory levels.
Women are particularly vulnerable when it comes to education and job opportunities.
9.5 percent of adult women have reached a secondary or higher level of education, compared with 20.4 percent of their male counterparts. Only five percent of them participate in wage employment.
Half of urbanized youth lack professional skills
Self-employment is the major means of livelihood for the youth population
Twenty First Century African Youth Movement (AYM) partners with a diverse network of global volunteers to build effective youth employment programs to address Africa's unemployed youth. The volunteers bring a wide range of both professional and social experiences to the organization making AYM multi-cultural. We are always on the lookout to join forces with like-minded organizations and individuals to maximize our positive momentum.  Join us.