MY journey with the African Youth Movement began in my youth: Back in high school, I volunteered for the Big Brothers Big Sisters Organization and I learned the importance of having and being a mentor. My parents both have immeasurable compassion for all living creatures, which is a great life lesson in itself.
While earning my Business Management degree at the University of Wisconsin-Madison, I began working and became a co-worker of Askia's.   Askia talked to me about Sierra Leone almost every day, explaining to me about his hometown of Mattru Jong, what it was like up until the 1980s, and about the terrible war that ravaged the country in the 1990s. He wanted to help rebuild the country by focusing on training and employing the youth.
When we held the first meeting with the youth, one thing I remember most was big smiles on everyone's faces. They were dressed well, holding themselves very professionally, and held a very formal meeting about the proposed AYM program I was to set up. They took the issue very seriously, and seemed dedicated to creating positive change in their community. They cheered when I spoke about wanting to create an Enterprise Center with computers and the Internet and job training.
I was most surprised to see the strong interest they had in developing themselves and their communities. It seemed like they were all trying very hard to improve their lives, but they felt oppressed and marginalised by the corrupt people controlling the resources of the country. They are in tune with international issues.  They listen to BBC News on the radio.  They knew of the disparity in quality of life between their community and the rest of the world. They desperately wanted to create change, but felt helpless and unable to change the system.
I was most impressed with how hard-working they all are. Children do a lot of chores around the house and on family farms, and they also take school very seriously.  They try hard for good grades and see it as a big opportunity. Farmers and laborers work very long days, and do very hard work. The women work even harder, maintaining the household and also doing other work to support the family. The volunteers who joined me in starting a new program from scratch were eager to learn and try new methods of agriculture, and join in on any work that needed to be done. That made starting any new projects easier.
Starting a program like AYM from scratch required the sacrifice and dedication of a few good people for several years before the program could generate funding or revenue. The most challenging part has been the lack of financial support for our projects. I made it work for myself, but it was most challenging lacking resources in Sierra Leone for the program to develop. We had to capitalise on creativity and the hard work of the volunteers to build equity for the African Youth Movement.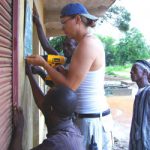 I wish people knew how unique and innovative the African Youth Movement is and aspires to be. We really are taking a different approach than 99% of the organisations out there, and we really do want to become the foremost leading youth development organisation in history. AYM is a real MOVEMENT; it just shows up on paper as a nonprofit organisation. Anyone and everyone can be a part of the movement and play their own unique role. I wish all nonprofit organisations and humanitarian groups, especially those dealing with Youth and/or Africa, would take notice of what we are doing and join the Movement.
The youth beneficiaries in Mattru Jong are very happy to be a part of AYM. They acknowledge that they are getting opportunities through AYM that practically nobody else in the country is getting. Computer training especially is a skill in very high demand, and it is virtually non-existent in rural Sierra Leone. Each of the volunteers has shared with me what benefits they value most out of their participation with the African Youth Movement, from business skills to computer training to water purification to electrical system management, erecting a wind turbine, agriculture project management, and so on.
I feel I am a stakeholder in the community, that I have learned so much about the community, culture, language, belief systems, and contemporary local topics, and am so close to many of the youth who share their plight with me, that I am a strong advocate for youth empowerment. 
I am continually engaged in strategic planning with AYM President Askia, determining what the next steps are that the organisation needs to take to continue our growth and impact. I am the first point of contact for the manager at the the African Youth Movement Enterprise Center in Sierra Leone, advising on important decisions and resolving issues that arise. I also am working closely with the team of AYM Online Volunteers in packaging content for our website and articles, fundraising, and organizing pictures and videos of our impact.
I am currently planning my next trip so Sierra Leone in February 2014, along with two other volunteers from America. We will be adding upgrades to the renewable energy system, continuing renovation of the building, and developing the administrative capacity of the local team. I plan to keep traveling back and forth, growing our presence and making an impact on more and more people's lives. I hope to get thousands and thousands of people involved in the Movement, and to help millions of people with our innovative solutions to poverty.
My greatest wish for AYM is that we get major funding to make the huge impact we have set out to make in Sierra Leone and across Africa. Once we set our programs into place, they are self-sufficient, because we design them to be generating local revenue, but it is the seed money we need to build these programs.  My greatest wish is to see the African Youth Movement creating an impact for millions of people across Africa.######